5 Elements for Gaining Total Buy-In with Your L&D Program
Presented by: Libby Powers & Cassie Whitlock
Wednesday, November 28th, 2018
1:00pm CT
Learning and development programs are becoming increasingly popular throughout organizations due to their known benefits of improving employee engagement, retention, and performance. But how many learning and development programs are truly successful? Statistics say not many.
Gautama Buddha said "when the student is ready, the teacher will appear". Before you can earn initial approval from your executives, you need to answer two questions: who are the students in your organization? And what do they want to learn?
The students may be fresh talent, bringing innovation and challenging the status quo or veterans who have become well-versed in organization's ways. But they all want to learn – 95% of employees say they would stay at a company longer if they invested in their career development. Preparing students to learn is less about creating excitement around the learning and more about the ability to continually be engaged and apply what they learned.
Join Libby Powers from BizLibrary and Cassie Whitlock from BambooHR as they discuss five elements of an L&D program that will be essential in gaining total buy-in from your executives and employees. With total company buy-in, everyone can progress on their journey from student to master.
During this webinar, we will discuss:
The benefits you can see from a strong L&D program
The disconnects that can cause your program to be unsuccessful
The difference between a career path and the process of career sculpting
The five elements to gain both leadership and employee buy-in
Ways to measure the success of the program and the skills learned
Steps to maintain success in your L&D program
Brought to you by your presenters
Cassie Whitlock
Director of Human Resources
BambooHR
Cassie started her career in the accounting world but working with small and medium sized companies, the HR function was always handed to her. She loves the intersection of business and humans, and believes that when companies focus on the human aspect of their people, the people in turn focus on the business needs. She enjoys her work most when she can take her talents in data, processes, and human psychology to make someone's day better. She believes that strategy is accomplished in the details of how you manage the daily tactical items. A quick humor and a thoughtful, listening nature are the mark of her leadership style. She views her team as part of her family and enjoys working hard with them, while they all learn, grow, and execute on business-critical initiatives.
Libby Powers
Channel Sales Account Executive
BizLibrary
Libby has recently been promoted and shifted gears to become a Channel Sales Account Executive. Working with our Channel Sales team to create and maintain strategic partnerships, Libby is passionate about learning and development as well as ensuring the success of all BizLibrary partners. Prior to working in channel sales, Libby was a Client Success Consultant for current BizLibrary clients. She worked with those clients to build and sustain meaningful relationships, while strategically growing their learning and development programs for optimal results. Prior to BizLibrary, Libby worked as an account executive and teacher.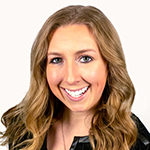 Katie Miller
Webinar Host
BizLibrary
As a Marketing Specialist with BizLibrary, Katie helps facilitate and create educational and engaging webinars geared towards Human Resources and Learning and Development professionals. She conducts research and works with subject matter experts to ensure the BizLibrary audience is receiving the most relevant and up-to-date content possible.

BizLibrary is a credit provider for HR Certification Institute (HRCI) and for the Society for Human Resource Management (SHRM). Viewing this webcast in its entirety qualifies for a recertification credit hour (general credit) for SHRM and HRCI. For more information visit our accredited content page.
FAQ
Q. What platform do you use for your webinars?
A. We use ON24 as our webinar platform.
Q. Do I need to download anything to attend?
A. No, ON24's interface does not require a download. You'll just need to make sure you have Adobe Flash enabled and for best results, close down any extra browser windows.
Q. How do I listen in to the webinars?
A. To listen in, you will need a pair of headphones or computer speakers. We do not provide a dial-in number for attendees.
Q. How early can I join the webinar?
A. The webinar room will open 15 minutes before the webinar starts.
Q. Do you recommend a certain browser to watch the webinar?
A. Yes, we would recommend to avoid using Internet Explorer as we found it is not as compatible with our platform.
Q. Do you offer credits for your webinars?
A. Yes, most of our webinars are approved for one hour of HRCI and SHRM general credit. In order to be approved for credits, you must attend at least 50 minutes of the webinar.
Q. How do I know if the webinar is approved for credits?
A. If a webinar is approved for SHRM or HRCI general credits, the registration page will have the SHRM and HRCI badges at the bottom of the page. If you have any questions regarding credits, email kmiller@bizlibrary.com.
Q. How will I receive my HRCI and SHRM certificate?
A. If you have attended for 50 minutes of an approved webinar, there are a few ways you can obtain your certificate. First, you can download the certificate from a widget in our platform. If you forget to download the certificate during the webinar, an email will be sent with the certificate about 2 hours after the webinar is complete.
Q. If I'm not able to watch the webinar at the live time, can I watch it later?
A. Yes! We understand that you might not be able to watch the webinar at the live time, so we offer our webinars on demand. On-demand webinars are available up until 12 months after the initial live webinar date.
Q. What if I am having trouble accessing the webinar?
A. The webinar room will open 15 minutes before the live time. If you are still having issues attending, email kmiller@bizlibrary.com.