Workplace training is essential to an employee's growth, skills, service, and safety, and your organization's profitability. However, too often companies only use training programs to deliver compliance training to meet the minimum legal requirements because they feel like it's all employees need or have time for.
The best training programs engage employees in their role at the organization and create an environment where they want to learn. An online learning platform, like BizLibrary's learning management system (LMS) encourages more than just required training. The LMS makes it easy to provide both required and exploratory learning, increasing utilization, results, and ROI.
Let's take a look at a few out-of-the-box ways to use your training program beyond compliance.
Improving Employees' Mental Health
The biggest impact L&D can have on improving employees' mental health is through training for individual contributors and managers. BizLibrary's content library has many topics associated with workplace mental health issues. To view a sample of what we have to offer, check out our Mental Health Playlist.
Providing employees with engaging content that easily explains how to notice the warning signs, cope with the struggles, and reduce the stigma of mental health issues is key. As more and more people open up about their struggles, it works to debunk the previous myths and opens up the floor for conversations about mental health at work.
The World Economic Forum found that, globally, mental health disorders will cost countries $16.3 trillion between 2011 and 2030, overtaking the costs of both heart disease and cancer. The costs are often underestimated because the indirect factors such as absenteeism and presenteeism (the practice of coming to work despite illness/anxiety, resulting in limited productivity) are overlooked. Statistics show that beyond the clear benefits to the employees themselves, there are many strong business reasons to develop and enact a mental health initiative for your workforce.
Creating Organization-Specific Certifications to Address Skill Gaps
When skill gaps are a stumbling block within your organization, it's important to get an accurate picture of where those gaps are, so you can create a plan to fill them. A skills assessment can help illuminate areas where skills need to be improved. These areas can then be addressed with online training.
With video-based, microlearning content that includes reinforcement tools, employees engage with training and are better able to retain and apply that learning in their roles. Video content can be used as standalone training or as a supplement to reinforce topics that need in-person sessions. Learning content that's available on the job makes the process of closing skill gaps highly efficient and achievable.
A creative way to encourage participation in training on certain skill gaps is by creating superlative-type awards for those that complete training. Examples of this would be awards for "World-Class Communicator" or "Expert Time Manager."
Team Building
One of our clients in the logistics industry designed a program to encourage cross-departmental communication and team building:
"To address the need for supervisor and manager training, we designed a program that combines monthly assigned video courses with an in-person group discussion once a month to discuss the material. Because of the different levels of experience, we created three different training groups
A new supervisor group comprised of individuals who had been in their positions one year or less and/or they are slated to move into a supervisory role but haven't yet
A tenured supervisor group that includes individuals who've been supervising others for three to five years
A manager group for those individuals new or relatively new to managing
This program model has helped to create and encourage an environment of open communication between Human Resources, the COO, and the supervisors/managers."
Assigning a lesson and having team members discuss how they can implement it is also a great way to introduce blended learning. Finding the right type of training for your company can seem daunting, but understanding how to blend a few different delivery methods can give you that boost in training effectiveness and ROI that you're looking to achieve.
Promoting Core Values and Company Culture
A core values playlist is a great way to introduce and set the tone of your company culture. You can use this playlist for new hire onboarding, new manager training, compliance training, or any additional topics that are important for you to share with your employees. New hires need independent work time to absorb new information at their own pace and have variety throughout their busy schedule.
If you want to structure the core values playlist and make it assignable, set up Learning Initiatives with stages. Learning Initiatives, a feature of the BizLibrary LMS, allow administrators to easily build and manage curriculums whether for new hire onboarding, new manager training, or annual compliance training. They can be automatically reset upon expiration or even tied to specific qualifications for seamless record keeping and management from one place.
Below is an example of how a BizLibrary client utilized Learning Initiatives with stages for their new hires. This was created to introduce the new hire to the company culture, values, expectations, and cover basic skills. They balance the use of the core values playlist with in-person training sessions for more specific job training.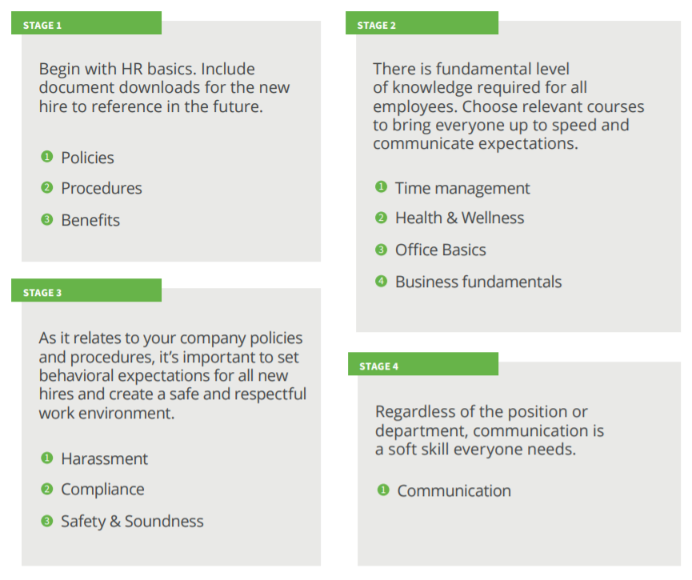 Encouraging Engagement
Instead of dumping all the curriculum in one short month, try a cyclical approach that spans over several months with stages. This helps your learners hone in on the skills they are learning online and have the ability to practice them during on-the-job situations. Connect your organizational values and culture to the curriculum and encourage new managers and new leadership to identify their "why" as it relates to their new position.
Conduct weekly lunch-and-learns. Introduce a theme for each meeting such as coaching or delegation to help center the discussion around recent assignments or activities in the program. If you have a group of learners in the new manager/leadership training program, create contests and award prizes for the first one to complete a Learning Initiative, playlist, course, or lesson.
This format introduces the training platform and allows learners to get familiar with the technology, along with reinforcing key points by highlighting courses around company culture and expectations.
Finding an Online Learning Partner
BizLibrary's client success team provides tools and resources for our clients to get the most out of their training programs while solving organizational challenges. Our Client Success Managers are expert advisors and provide best practices and guidance on gaining leadership buy-in, developing marketing and communication plans, and executing flawless program management.
When your organization partners with a learning solution like BizLibrary to achieve big picture goals, and empowers employees' self-development, then you're truly on your way to becoming a learning organization with better business results.
Mandatory compliance trainings may be unavoidable, but that doesn't mean additional training has to be less than exciting. By providing employees with relevant, personalized training opportunities along with their mandatory trainings, organizations can build L&D programs that keep their top talent learning, growing, and engaged for the long haul.